Gigantic Book Sale at Pack Library
Dates: Friday, October 17 – Sunday, October 19
Location: Pack Memorial Library downtown

Love books and bargains? Mark your calendars for the annual Gigantic Book Sale at Pack Library in downtown Asheville. The gigantic book sale at Pack Library will be: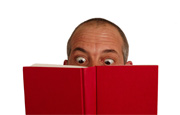 Thursday, October 16 from 5 - 8 pm Friends Preview Sale
Friday, October 17 from 9:30 am - 4:30 pm
Saturday, October 18 from 9:30 am - 4:30 pm
Sunday, October 19 from 2 - 5 pm $1 per bag, $2 per box
All items at the sale will be priced $1 or less.

On Sunday, everything in the sale will be $1 a bag or $2 a box with boxes and bags provided.

There will be fiction and non-fiction for both adults and children and a selection of videos and DVDs.

There will be a preview sale for Friends of the Library on the evening of Thursday, October 16. You can join the Friends at the door for admission to the sale.
All proceeds from the sale will benefit Buncombe County Libraries. For more information, call 250-4700.